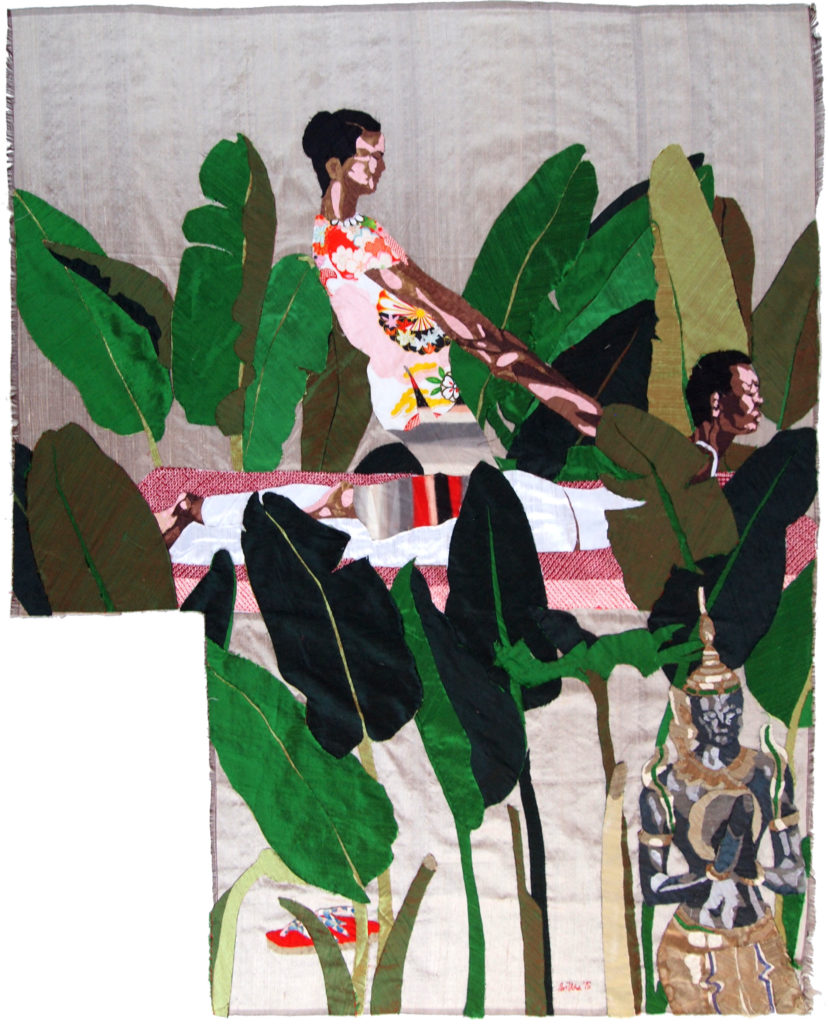 Billie Zangewa is a visual artist that has exhibited her silk tapestries all over the world and continues to do so. She lives and works in Johannesburg.
How did you get into textiles? 
I didn't get into it so much as I evolved into it as a result of many interests and experiences in my life. 
What's your process when starting a new piece of work? 
I start off on a mental and emotional level and build up an image from there which becomes a line drawing and then the layered silk. Before this all happens and sometimes in between, I do a lot of tidying up. It helps me to focus.
What textiles techniques do you use? 
Cut-outs, stitching, embroidery, embellishment or beading and some hand-painting.
What textiles techniques would you like to learn about and explore? 
I'd love to study textile technology. I am particularly inspired by Issey Mikaye's experimentation with technology in his fabrics. I have never been trained in beading and would love to know how it's really done.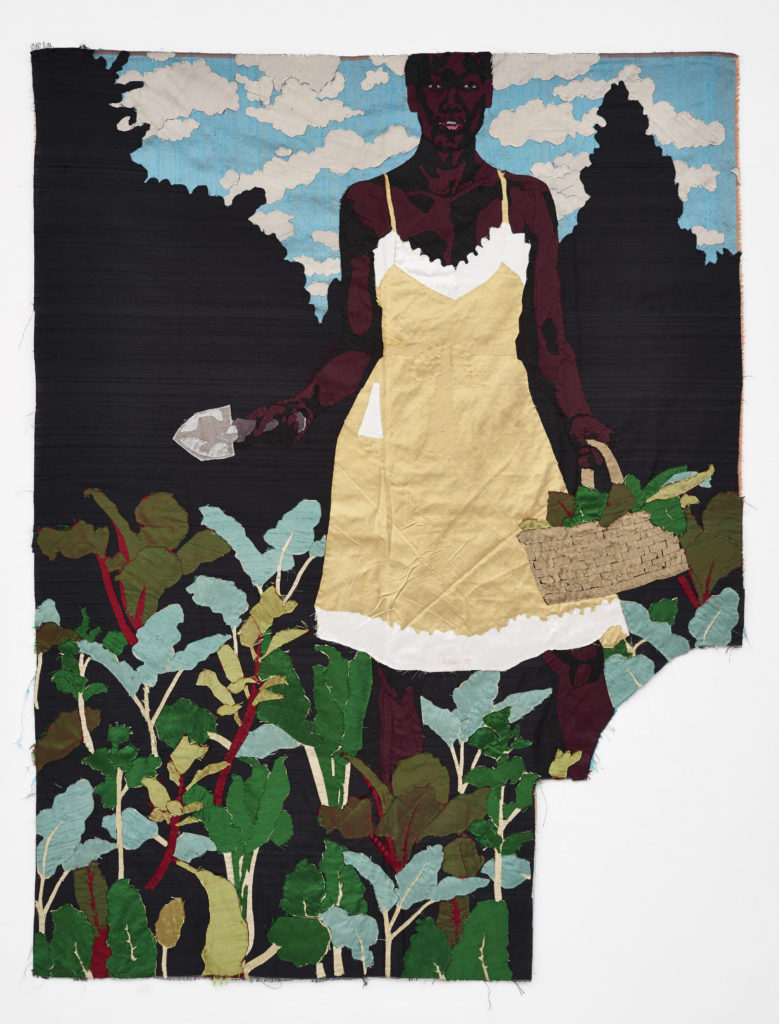 Constant gardener, silk tapestry, 138×105 cm
 What are you working on at the moment?
I have just finished a couple of works dealing with death, loss, grief  and the mythology around it. I needed to find closure from my own personal experience, also to address it universally. The next thing I'm working on is really going back to how green spaces function in the urban space and its significance in contemporary, relative to the simpler pastoral past.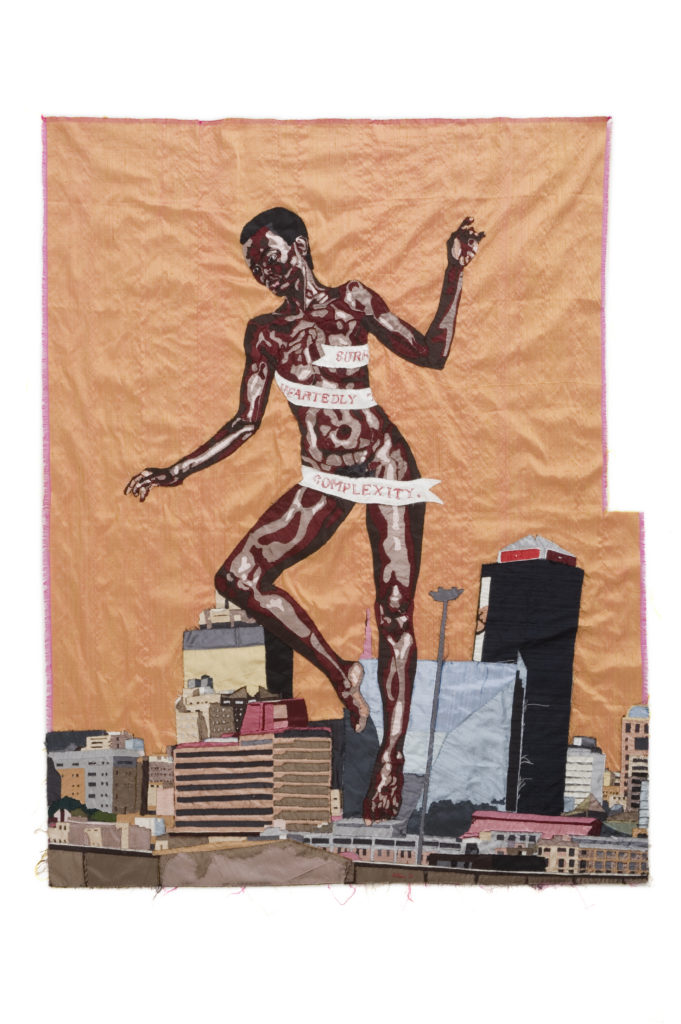 The Rebirth of The Black Venus, silk tapestry, 127x103cm
How do your surroundings inspire your work? 
I'm interested in the narrative and objects that make up space like chapters in a book; each one has a story to tell and collectively give the space a mood. There is definitely an influence, but its mainly subliminal or indirect.
Which other textiles designers do you admire? 
I am a visual artist working with textile. Issey Miyake is a genius, but I also enjoy Japanese label Sacai.
Who would you like to collaborate with and why? 
Dries Van Noten. He is amazing, my hero. I'd love to design the surfaces of his beautiful garments.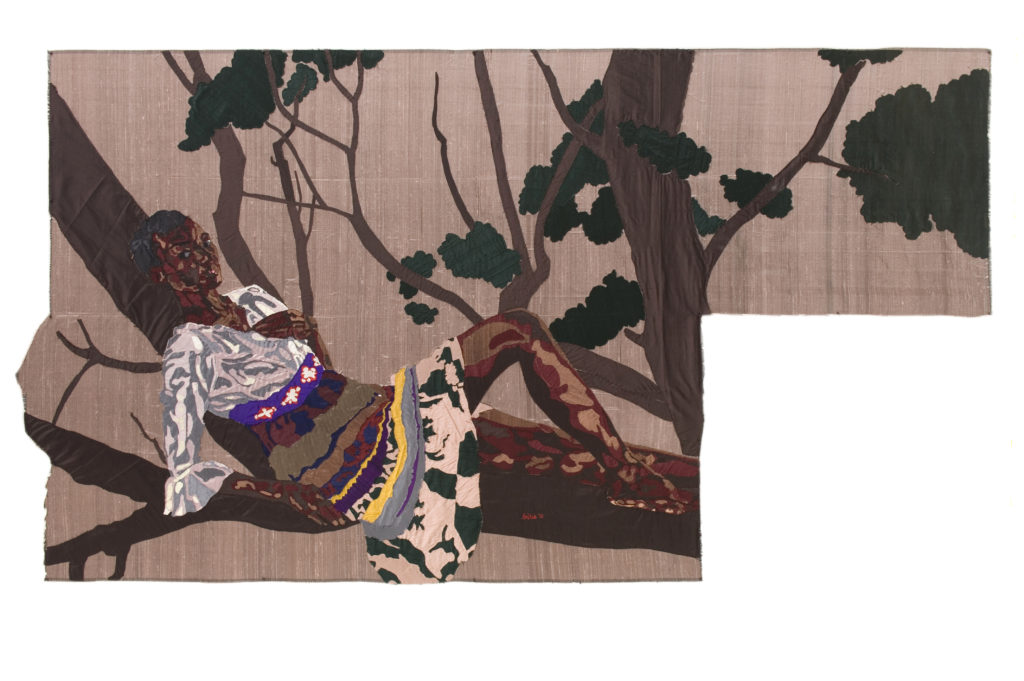 Sweet Dreams, silk tapestry, 112x206cm
I read somewhere that you used to apply your work on bags; how else would you like to apply your textiles? 
Everywhere! I'm textile crazy, but really I don't have the time to do everything, especially since it's all handmade by yours truly.
Lastly, what do you love about textiles? 
That it's universal; we all use it and have some kind of memory attached to it. I especially love dupion silk and the way it looks, but also that it's a by-product of transformation.